Blog Property Market Updates • 7 July 2020 •
June Property Market Update
The national dwelling value index has experienced another downturn, dropping 0.7% this June. However, it's not all doom and gloom.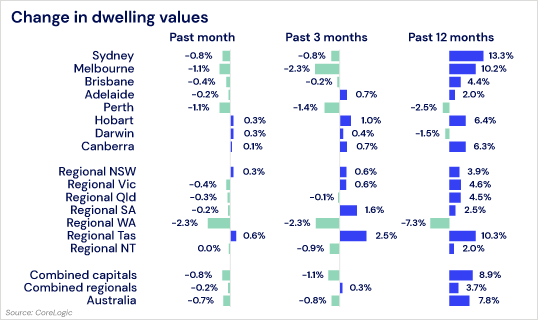 Mixed signals about property values
Despite another dip in the national dwelling value index this month, some capital cities performed better than others. Specifically, Canberra, Hobart and Darwin all saw subtle increases in dwelling values, while all other capital cities experienced declines. The biggest drops were in Melbourne and Perth, both of which fell by 1.1%.
Although downturns are certainly not ideal, industry experts say it is worth noting that the fall in housing prices is mild compared to what was initially expected from the impacts of COVID-19 (predictions were closer to 10-20%). In fact, most areas across the nation are still seeing positive changes in housing values since this time last year.
How has your suburb performed so far during COVID-19?
There are areas in which dwelling values have grown during the pandemic, while other areas have not met the same luck. Find out how your area has performed through the toughest months of COVID-19 in the chart below.
Source: CoreLogic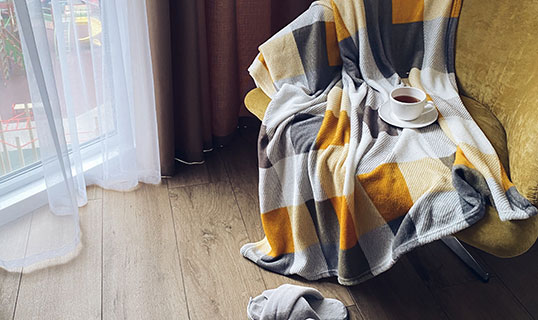 Rental markets struggle in VIC & NSW
It's no secret that the national rental market has struggled through the pandemic. What's interesting is that rental market behaviour differs across the country.
Victoria and New South Wales are investor hotspots, which have continued to navigate high rental vacancies throughout June. Rental demand is usually reliable in these areas, especially since Melbourne and Sydney have the highest rates of international students and overseas migration. However, with the pandemic putting migration on pause till further notice, many landlords have been left wanting.
What's more, the national rental market is largely made up of younger age groups and people who work in industries heavily affected by COVID-19, such as hospitality. With Victoria currently experiencing a second wave of coronavirus cases, landlords in this region may require more patience.

However, since the rest of the country has been able to keep COVID-19 case numbers at bay, restrictions continue to lift and the economy has begun to reopen. These positive strides may explain why most other capital cities' rental markets are starting to stabilise, which is excellent news.
How to minimise your time on market
At the moment, listing volumes are down 40-50% on last year. However, there are many active buyers on the market searching for their next property. These buyers have generally enjoyed financial security throughout the pandemic and view this time as an excellent opportunity to enter the market. As such, if you're thinking about selling in the near future, now is a great time to get your property on the market.
Whether you're selling or leasing your home, consider these powerful tips to help you minimise your time on the market.
Understand your local market
Determine what a fair market price is for your property by doing some simple online research. Head online to realestate.com.au or domain.com.au and search for recently sold/leased properties in your suburb, as well as neighbouring areas.
If you're selling your property and want a more specific indication of what your property could be worth, you can always hire a professional valuer, or request a free online, data-driven valuation report from us by clicking here.
The key is to set a realistic asking price. If you set it too high, your property will languish on the market. By asking a reasonable price, you will maximise buyer interest and generate a sense of competition, which is what will help drive your price upwards in the end.
Style to captivate your audience
People buy into the lifestyle a home provides more than the house itself. Step into your tenants'/buyers' shoes and fine-tune the cosmetics of your home to ensure your first impression is powerful.
Two groups that are especially active at the moment include first-time buyers and young families. If your home is ideal for either of these groups, style your home accordingly. For example, repair your courtyard so it is child-friendly, or convert one of the bedrooms into an office space so young professionals recognise they can comfortably work from home.
To learn more about selling privately, call us on 1300 289 697 or email [email protected]. They are best placed to answer your questions and help determine if selling privately is right for you.
References
Harling, J. (2020, July 01). Housing Values Decline For A Second Consecutive Month In June, As Turnover Recovers From The April Low. Retrieved July 07, 2020, from https://www.corelogic.com.au/news/housing-values-decline-second-consecutive-month-june-turnover-recovers-april-low
McLean, S. (2020, June 22). How COVID-19 Is Impacting Property Prices Across Australia. Retrieved July 07, 2020, from https://www.realestate.com.au/news/how-covid-19-is-impacting-property-prices-across-australias-regions-and-suburbs/
Owen, E. (2020, June 26). CoreLogic reveals where the biggest property price falls have been since the onset of COVID-19. Retrieved July 07, 2020, from https://www.corelogic.com.au/news/corelogic-reveals-where-biggest-property-price-falls-have-been-onset-covid-19?utm_medium=email