On The Market •
Why Your Online Property Search Results Matter
Your property's position in online search results determine how many people view your listing, which can impact the sale of your property.
Realestate.com.au, Australia's number one real estate website, claims 48 per cent of their website visitors don't click past the first page in search results when looking for property.
If you're not on the first page, that's a large amount of buyers to miss out on, so it's important to keep a close eye on your listing's position in search results.
At Buymyplace, we strongly believe in giving you access to all the same advertising capabilities as agents do. Our extras such as listing upgrades are a crucial real estate advertising tool, especially when it comes to competitive property markets. They allow you to maximise your advertising exposure and outshine your competition by bumping up your property's listing in search results.
Upgrading your listing also enhances your property's visibility through larger ad sizes and photo carousels. It will come as no surprise to discover that the more people that see your listing, the more property views and enquiries you'll receive. In fact, Realestate.com.au's highest level upgrade listing, the Premiere Listing, is known to generate 5.5 times more email enquiries and help properties sell up to 49 per cent quicker than default-level listings.
The Hierarchy
As you've probably guessed by now, there are different levels of Upgrade Listings. Both Realestate.com.au and Domain.com.au have respective hierarchies, however, they follow the same ranking classifications, it's just the category names that change.
Since Realestate.com.au is the most popular real estate search engine in Australia, let's review their hierarchy in more detail. Before we begin, a Standard Listing is the listing type you automatically receive when advertising your property online, otherwise known as the default-level listing.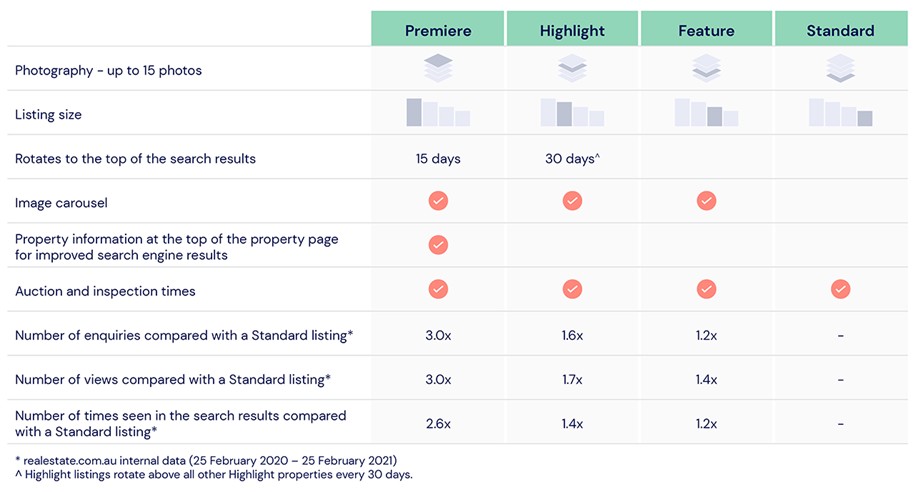 Feature Listings are the first upgrade available from a Standard Listing. This option will ensure your property always appears before all Standard Listings in your area. Feature Listings have interactive photo carousels, allowing potential buyers to easily scroll through your images before deciding to click through to find out more. Feature Listings tend to receive 1.5 times more email enquiries, and enable properties to sell up to 10 per cent quicker than Standard Listings.
Highlight listings offer your property priority before both Standard and Feature listings in search results. In addition to photo carousels, your advertisement increases in size, capturing a larger share of the webpage. Highlight Listings are known to receive up to 3.9 times more email enquiries and sell up to 32 per cent quicker than Standard Listings.
Premiere listings are the crème de la crème of Realestate.com.au suite of upgrade listings options. They appear above all other listings in suburb, state, and region search results. Premiere Listings are double the ad size of a Standard Listing, which demands attention from potential buyers. As mentioned above, Premiere listings on average receive up to 5.5 times more email enquiries and sell up to 49 per cent quicker than Standard Listings.
Upgrade Listings are available to purchase in either 30 or 45-day campaign lengths. The exceptions are Feature Listings, which are also available for 90 days.
We would like to give you a set price list for each upgrade, however, Realestate.com.au and Domain.com.au generate prices based on a number of variables, including your property's suburb location, campaign length, and current market conditions. As prices vary on a case-by-case basis, we'd be more than happy to help provide you with a quote for your property upon request.
To upgrade, or not to upgrade?
Upgrade Listings aren't necessary for every property on the market. To figure out if they're the right move for you, start by searching your property's suburb on Realestate.com.au or Domain.com.au. Is there lots of competition?
If Standard Listings don't start appearing until the 7th or 8th page in search results, your property's landscape is quite competitive. Given that 57 per cent of people don't click past the first two pages in search results, let alone the 48 per cent that don't even click past the first page, an Upgrade Listing is certainly worth considering.
If the competition in your suburb isn't fierce, then you may not need to upgrade your listing for the moment. However, keep in mind that real estate markets are always changing. New properties are listed every day, which means your listing could get pushed further down in search results as time goes on. Make a habit of checking your property listing's position in search results every week to ensure you're in a prime position to capture buyers' attention.
At the end of the day, your property's marketing campaign is yours to control. All the advertising tools and assistance you need is available at your fingertips, it's just a matter of knowing when and how to use them to your advantage. If you decide to sell your property privately with us at Buymyplace, we'll be there every step of the way to ensure you're achieving the right amount of exposure.