Blog Property Market Updates • 3 September 2020 •
August Property Market Update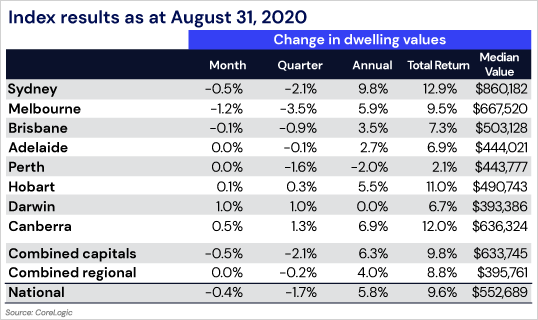 Property Prices are Stable and on the Mend
Overall Australian housing values have dropped 0.4% this August, which makes for four consecutive months of decline. However, the rate of decline has improved over the past two months and national housing values are still 5.8% higher than they were this time last year. (Harling, 2020).
Melbourne led the decline, dropping 1.2% this August, which was largely due to strict Stage 4 lockdown regulations. With Spring selling season around the corner and Melbourne's well-known love for property, the Victorian market is expected to bounce back when restrictions ease and market activity can resume.
Meanwhile, combined regional housing values have continued to stay strong through August. This stability is likely to continue as buyers and renters alike consider what lifestyle they want in a post-COVID world. Working-from-home has become the norm, meaning proximity to CBDs may be less relevant. Plus, regional areas offer lower price points, more space and a less congested lifestyle.
Buyer Demand Remains Strong
The Royal Bank of Australia has confirmed it will hold the cash rate at 0.25% for quite some time, which is excellent news for consumers. Confirmation of the low cash rate is expected to keep buyers active in the market, as borrowing has never been more affordable.
"RBA governor Philip Lowe has said repeatedly he will happily keep Australia's official interest rate around 0.25 per cent for three years at least, possibly more."
- ABC News.
In fact, Realestate.com.au's Weekly Demand Index is 27.7% higher nationally than it was this time last year. (Kusher, 2020) The index measures high-intent buyer activity on their platform, such as multiple visits to one listing, sharing the listing, and submitting an enquiry.
What's more, first-time homebuyers are still highly active and taking advantage of government stimulus programs, including the First Home Loan Deposit Scheme (FHLDS) and the First Home Owner Grant (FHOG). These schemes have given young buyers greater accessibility to the market, and as a result, many are purchasing their first properties much sooner than anticipated.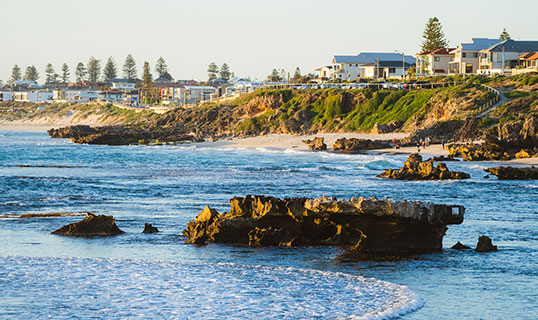 Vendors Encouraged to List While Competition is Low
Our portals have reported that new listing volumes are 9% lower nationally than they were this time last year. (Kusher, 2020) This indicates there is low competition amongst vendors, especially given how strong buyer demand is at the moment.
Melbourne's property market heavily impacted this result, as their new listing numbers dropped 54.9% this August purely due to strict Stage 4 lockdowns that crippled market activity. (Owen, 2020)
Meanwhile, the rest of the country is experiencing a steady increase in market sentiment and positive changes in new listing numbers.
With so much demand in the market, industry experts are advising property owners that now is an excellent time to sell while competition is still low.
" This spring, we may see an increase in listings. I don't foresee new stock overwhelming current demand, but certainly anyone listing will be met with a high degree of inquiry."
In fact, even amidst strict lockdowns some Victorian properties have sold sight-unseen – meaning buyers have purchased properties after only viewing and inspecting the property online.
Introducing the Virtual Walkthrough Pack ($799)
Using a combination of digital tools, the Virtual Walkthrough Pack empowers you to give buyers a comprehensive view of your property 100% online. For just $799, you'll receive:
3D Virtual Walkthrough
The latest 3D camera technology allows buyers to explore a realistic virtual walk through of your property
10x Premium Professional Photos
High quality photography using carefully combined exposures create state-of-the-art digital images
Floor plan
Floor plans give your buyers a birds-eye view of the layout and dimensions of your property
Professional Slideshow Video
Compliment your media ensemble using a professional slideshow to present your high-quality photos to buyers.
Call us on 1300 289 697 today and speak to our Private Property Specialists to find out more about this powerful campaign add-on.
Wrapping it Up
August's results reflect how much a COVID-19 outbreak (and in turn, lockdown restrictions) can impact market performance – exhibit A: Victoria. However, the data also demonstrates Australia's strong love for property. The government and the RBA are supporting the market, which has helped stabilise housing values and stimulate high buyer demand. What's missing? Supply of properties for sale.
If you need advice about selling during COVID-19, or if you have questions about the process of selling privately, call our Private Property Specialists today on 1300 289 697. We're always happy to help.